Educators & Advocates Need Authentic Conversations About Race, Too
Can racism be stopped in the third grade? A look at the controversial Fieldston experiment: http://t.co/SQTDO1y7YT pic.twitter.com/SLv30yw1J7

— New York Magazine (@NYMag) May 19, 2015
Some Fieldston parents and NY Magazine readers may be concerned about the progressive private school's racial awareness program described in this week's magazine (Can Racism Be Stopped in the Third Grade?), but not everyone's quite so bothered by the effort.  
As described in the magazine feature by Lisa Miller, the school asked elementary school kids to identify themselves by race and then separated them -- temporarily -- as part of a program to deepen the students' understanding of racism and differences. "It would foster interracial empathy by encouraging children to recognize differences without disrespect while teaching kids strategies, and the language, for navigating racial conflict."
The program is mandatory, and operates during the school day, and start with kids as young as eight. "In 45-minute sessions, children would talk about what it was like to be a member of that race; they would discuss what they had in common with each other and how they were different, how other people perceived them, rightly or wrongly, based on appearance. Disinhibited by the company of racially different peers, the children would, the school hoped, feel free to raise questions and make observations that in mixed company might be considered impolite."
Designed by Fieldston's Mariama Richards, the "affinity-group" program was meant to foster authentic conversation but it felt to some parents like a step backwards -- like segregation, like overkill. It wasn't a comfortable discussion in ethics class."This same parent who sends her children to Lower because she values diversity tends not to dwell on the fact that she has few close friends of color; that her neighborhood is almost entirely white; that her nanny or housecleaner or doorman has brown skin."
Racial and demographic diversity has long been a goal for progressive private schools, but mixing kids together is just a start. Efforts like these have been popping up in different places around the country.  (My progressive private alma mater, Chicago's Francis Parker, just hired a director of diversity who seems like she's going to push the envelope for ostensibly liberal parents.) Fort Greene's Community Roots, a diverse progressive charter school, asked mixed groups of parents to engage in group activities outside of school in order to promote understanding and deepen classroom diversity.
See also this CNN segment featuring concerned parents: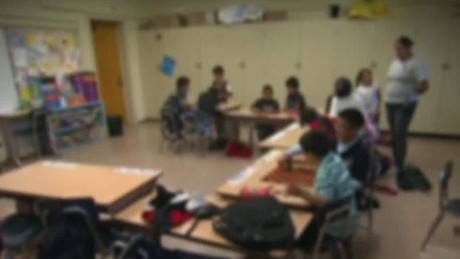 "One of New York City's most elite and progressive elementary schools is conducting an experiment on race by separating students. CNN's 
Jason Carroll
 reports."
The reaction so far to the article has been generally supportive of the effort at Fieldston:
Education writer Dana Goldstein, now at The Marshall Project, noted on Twitter that the piece "perfectly captures moment in which young(ish) progressive educators confront parents who hold old notions of "colorblindness." Once unusual, racial awareness programs (the invisible white backpack, etc.) are more commonly part of college than they used to be. "My demographic wouldn't be shocked if our kids were separated by race and asked to discuss it in "safe space," noted Goldstein. "We've been there."
Over at Vox, Jenée Desmond-Harris's post (Why a New York City school's idea to (temporarily) separate kids by race is smart) lists the many advantages of the Fieldston program, especially teaching the lessons that "ignoring race and racism doesn't make these things go away, and that white people have a racial identity, too."
Not everyone is a big fan of the approach being taken, however.  Responding to the earlier NYT piece written by Kyle Spencer, New America's Connor Williams wrote a post titled The Limits of Talking About Privilege to Teenagers. 
NYT editor Amy Virshup thought that the NY Magazine story might not offer much that readers hadn't already learned. "But @KyleYSpencer story on same topic ran in Feb., w/pix of real kids, not models. What's new?"
The issue of overkill -- not so much on the issue but perhaps the controversy at this particular school -- is also the focus of a recent blog post I wrote over at The Grade:  Another Story About Fieldston's Controversial Racial Awareness Program.  
One thing I'd add is that it's not just kids who need more and better racial awareness programs but also educators and advocates.  Teachers -- predominantly white and middle class -- need space and time to talk about and understand not only their students' backgrounds but also their own.  And advocates -- reformers and critics alike, also predominantly white and college-educated -- would do well with more of the same.
Making sure that conference panels and speakers and attendees are more diverse is one step, as is engaging more diverse groups of stakeholders (not just mobilizing them). Panels about racial awareness or race-focused issues are good, too.  But what about taking it one step further and doing a version of what Fieldston is doing and let adults engaged in education talk together in affinity groups and have some authentic conversations, too?  I could see PIE, or TFA, or maybe the Shanker Institute or Century Foundation doing something like this. Or maybe it's already happening and I just haven't heard about it.